Axeris 
is a snowy owl (
Nyctea scandiaca
) from Kiel Bay in the Northern Kingdoms. He arrived at the Great Ga'Hoole Tree two weeks before the War of Ember. There he was chosen into the newly-formed Intelligence chaw, a group of spies who gather information about secret activity in Ga'Hoole.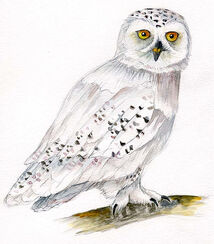 Notable Information
Edit
Owl Species: Snowy Owl
Skills: Diplomacy, Intelligence
Appearance: Tall, Noble, Snow-White feathers with Bright Yellow Eyes
Chaw: Intelligence
Appears in: N/A
Other Information
Edit
Favorite Food:
Favorite Beverage:
Friends with: Sophos, Corinth, Jupiter
Enemies with: The Pure Ones
Ad blocker interference detected!
Wikia is a free-to-use site that makes money from advertising. We have a modified experience for viewers using ad blockers

Wikia is not accessible if you've made further modifications. Remove the custom ad blocker rule(s) and the page will load as expected.